Counting the Ways to Say Thank You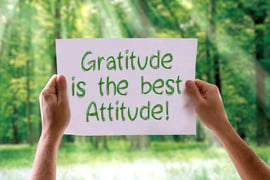 One of my favorite books is the British spy thriller, "The 39 Steps" by John Buchan. When I came across an article entitled "39 Employee Recognition & Appreciation Ideas", it caught my attention. It was written by SnackNation, a company that supplies healthy snacks to businesses as a benefit for their employees. As we're drawing close to our season of thanks, I thought these employee appreciation examples might be worth exploring.
39 Employee Appreciation Ideas
Give points to your team – employees send small bonuses to one another

Keep a "Good Book"- post good outcomes and outstanding work publicly

Scale staff recognition with a "Recognition Toolkit"- give recognition a personal touch

Test recognition ideas by surveying your employees - find out what they really like

Create a "Go the Extra Mile" Program - start a "GEM" award program

Shout out on social media - profile on Facebook and other social media outlets

Gamify with YouEarnedIt – employees give co-workers "game gold" they can cash in

Gamify…in real life - Employees earn customized badges

Recognize your team by recognizing their passions - grant time for personal projects

Be true to your culture – embody your company mission

Use your website well – dedicate a section to your employees

Host a Friday "Crush-It" Call – weekly get-together to recognize awesome work

Gift custom action figures – give each team member a personal action figure

Make employee recognition part of your lingo – peer to peer thank you ecards

Celebrate more - highlight employees who have made a spectacular effort

Commission Custom Oil Paintings - commission an anniversary employee portrait

Or, for a more budget-friendly option…hire an artist to create a caricature

Try random acts of fun – hold company themed adventures

Forget performance, recognize holistic achievements – recognize personal success

Wall Clock for Your Employee of the Month Award – employee photo for each hour

Recognize their other talents – acknowledge and celebrate personal talent

Get together and cheer each other on – hold company-wide shout-outs

Recognize the value of helping others – Give a monthly "helping hand" award

A little gaming goes a long way – award points and badges for good work

Know your staff – make recognition fun and personal

Use an old school "suggestion box" – Call it a "recognition box"

Don't wait to show employee appreciation – practice on the spot recognition

Design perks around your company story – create company themed events

Dole employee recognition out daily – give frequent positive feedback

Make the impact clear – provide social praise clearly

Set up a peer-to-peer system – make peer-to-peer recognition easy

Support what they want to support – let staff select community service projects

Go visit – Give your employees facetime with you

Showcase employee success stories – Create testimonials of employee promotions

Recognize skills they value in themselves – recognize skills you want to nurture

Ask for help – enlist their assistance in company projects

Give them nicknames – complimentary nicknames can boost camaraderie

Brag about them – be your employees' biggest cheer leader

Be a not-so-secret admirer - send employees personally signed thank you cards
Creating an Attitude of Gratitude
You may not want to adopt all or even most of these ideas. But the fact remains they all add up to one thing – a culture of appreciation. This is the true bedrock of employee recognition and should permeate every aspect of your workplace. There are no half measures here. Employee recognition is a full time and extremely rigorous job. It requires a full time and extremely rigorous employee recognition program. Don't try this alone – we've written the book!
Give Incentra a call today to get started creating a culture of appreciation.
Phone: 888-899-7295
Email: solutions@incentracorp.com