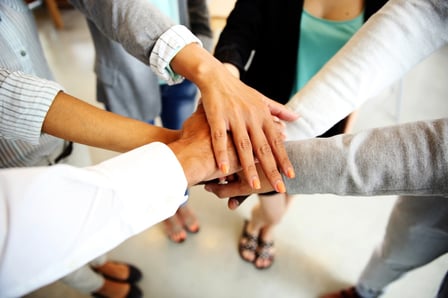 As a Human Resources professional, it can be a challenge to engage your workforce while also ensuring that employees are performing at the highest level possible. This is a common dilemma according to Gallup research that shows workers who are actively disengaged outnumber their engaged colleagues by an overwhelming factor of 2:1. How can a business operate effectively with so many disengaged employees? What components are essential for an effective behavioral recognition program to help keep employees engaged and high-performing?
Recognition Professionals International
suggests that a best practices model consists of three levels of recognition that make it possible to reach all members of an organization. And, with today's recognition platforms, we add a fourth and fifth. You may already have some of these components in place, but it's a good time to fill in any gaps and make sure you are offering a complete recognition and engagement solution.
Day-to-Day Recognition encompasses a wide range of acknowledgement that is frequent, ongoing and informal.
For example:
Intangible recognition, awards or celebrations (or eligibility for awards or celebrations) to reinforce behaviors that support organizational goals and values.

Peer-to-peer recognition, thank-you notes or cards that employees give to one another, or verbal praise.
The fact that all employees can participate supports the commitment to recognition up, down and across the organization.
Informal Recognition singles out individuals or teams for goals achieved, projects completed, or other above-and-beyond contributions or results.
It might include:
Celebrations featuring low cost mementos or refreshments as a way to note achievements or positive behaviors.

Manager recognition, nomination recognition, or peer recognition with manager approval.
Formal Recognition consists of a structured program with defined processes and criteria linked to organizational values and goals, a nomination and selection process, and an awards ceremony where employees receive public recognition and are presented with awards in a formal setting. Generally speaking, formal recognition occurs annually and involves only a small percentage of employees.
Social Recognition allows recognized achievements to be seen across an organization, with
"likes," "comments," and "follows," as is typical in social media. Some sites allow for personal video messages from smart phones to be included in the recognition process. These extra touches encourage collaboration, teamwork and add free recognition touches.
Gamification and Badging are fun ways to use competition and achievement milestones as a way to drive performance. Both use people's competitive nature in a non-game environment to reward them for taking some action.
For example, gamification can be used to help create a positive workplace culture by giving employees rewards for working with other departments to develop solutions, providing product or process improvement suggestions, and taking part in a company-wide volunteer program.
Badges can be described as virtual trophies or awards. A person can earn different badges for taking certain actions such as submitting ideas or giving positive feedback to co-workers.
In Summary implementing these best practices in your recognition program will improve employee engagement. And new technologies have made it easier and faster than ever to design and implement an enterprise-wide workforce recognition process. Today's leading recognition platforms include all standard program functionality and can be customized and branded for each client.
Contact us today, and we can help you get started.