A Class Act
No doubt you, like all the rest of us, were caught up this past week in the passing of our 41st President, George Herbert Walker Bush. His humble truth of a life well lived for God and country certainly touched each one of us. We need to be reminded from time to time of the giants who have walked before us and shown us the way to live and serve. What struck me the most was the fundamental kindness of the man in all his dealings with his peers and subordinates. Nowhere was that more evident than in the thousands of handwritten thank-you notes he was said to write over his years of service. It made me stop to think of how important this simple act can be in our everyday work environment.
A Lost Art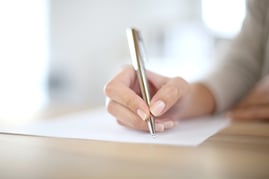 While thinking about this, I came across an article in Forbes entitled, "How to Reclaim the Lost Art of Handwritten Thank You Notes." In it, the author claims it's time to bring back a valuable custom that has almost vanished: the art of handwritten thank you notes. As we approach this holiday season, it seems to me that here is one lost art we could restore quickly and easily as we enter this time of gratitude and good will.
Benefits of Handwritten Notes
The author believes there are three main benefits to penning a personal note. They are the following:
You'll Remain Top of Mind - Although the reason to write a thank you note is to express your gratitude for something another person has done, this practice benefits you too. It's so unusual to get such notes these days that the recipient may very well save your note, ensuring that you will be warmly remembered for a long time.
Mindfulness in action – When you write a handwritten note, you are forced to concentrate on this one task for a reasonable period of time. That is the essence of mindfulness, focus or If you regularly write a thank you note by hand, you will indeed be engaging in this practice.
Rules for Handwritten Notes
The author suggests the following simple rules to guide your handwritten note endeavors:
Get good paper – This is the time to splurge. Order top quality, personalized notes from companies that make high quality thank you notes.
Get a good pen – You want this to be a special occasion so spring for a decent pen. A cheap pen can leave smears and little blobs of ink.
Avoid distractions for 10 minutes - Find a time and a place when you can turn off your phone and won't be able to look at your computer.
Let your feelings show - Mention something specific the person has done, how it benefitted you and how deeply you appreciate it.
If you are looking for other ways to say thank you this holiday season and any time of the year, check out last month's blog post "39 Steps to Employee Recognition".
Raising the Bar
Adding the practice of handwritten thank you notes will take you to next level success and help you make an even bigger difference in the lives of your employees. As we have witnessed over the last few days, even the smallest touch of kindness can have an incredible impact on the ways we relate to one another. In the long run, it is the little things that will ultimately mean the most.
Give Incentra a call today for more ideas on how to recognize employees.
Phone: 888-899-7295
Email: solutions@incentracorp.com