It Can't Come Soon Enough
Well, it's here… Election Day 2016. And most of us, I imagine, are going to breathe a deep sigh of relief. It's certainly been a somewhat wild ride. And whichever side of the political spectrum you're on, we're just not sure how the outcome will impact us and our employees. There are so many issues on the table, I thought it might be helpful to consider what to expect based on the election outcomes.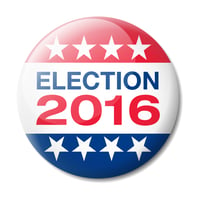 More than Just the Presidential Race
Of course we know that the election of a new president will have an enormous effect on laws and regulations governing the workplace. But, there will also be congressional elections at the federal level and hundreds of state and local elections that will also impact work related issues. Employers, and in particular, HR leaders, will have to perform a balancing act in creating workplace policies that conform to different political administrations and agendas.
Key HR Issues Impacted by 2016 Election
Recently SHRM, The Society for Human Resource Management, released its 2016 Guide to Public Policy Issues. The Guide addresses the following HR related issues and how the election outcomes may impact them:
* Background Investigations: Bipartisan efforts to provide greater employment opportunities for the formerly incarcerated have focused on the use of criminal background checks in the hiring process. There is some congressional support for the elimination of criminal background checks as potential barriers to employment.
* Compensation Equity: the Paycheck Fairness Act (PFA), would allow employers to base employee pay differentials only on seniority, merit and production. Because of these expected challenges, congressional leaders are exploring alternative approaches to address compensation equity.
* Employment-Based Immigration and Verification: The most significant impact on immigration will come from a U.S. Supreme Court decision in 2016 that will decide if the President's executive action for undocumented workers is constitutional. However, congressional focus remains on enhanced border security and new limits on H-1B workers.
* Fair Labor Standards Act Overtime Regulations: The DOL has increased the salary threshold for overtime pay from $23,660 to $47,476 per year, starting on December 1, 2016. It also exempted "highly compensated" employees who are paid a total annual compensation of at least $134,004, effective December 1, 2016. The new rule also established automatic increases to these salary thresholds beginning in 2020.
* Health Care Reform: Implementation of the Affordable Care Act (ACA) requirements remains challenging. Congressional reforms should strengthen and improve the employer-based health care system by ensuring that tax policy and medical liability don't increase costs.
* Labor-Management Relations: The Department of Labor (DOL) and the NLRB have promulgated numerous workplace rules and decisions to make organizing easier and increase scrutiny of whether employer policies interfere with employees' right to organize under the NLRA.
* Retirement Security and Employer-Sponsored Benefit: While full tax reform efforts will likely not occur in 2016, proposals that attempt to alter the current tax treatment of employer-provided benefits will have implications for HR professionals.
* Sexual Orientation Nondiscrimination: Twenty states and the District of Columbia have passed state-wide laws prohibiting employment discrimination based on sexual orientation and gender identity.
* Skills Gap: The Workforce Innovation and Opportunity Act is designed to help individuals acquire the knowledge and skills necessary for today's economy and to connect employers to the skilled workforce they need.
* Workplace Flexibility: The Healthy Families Act (HFA) requires employers to provide employees with up to 56 hours of paid sick time in a calendar year. The Family and Medical Insurance Leave Act, would provide partial wage replacement funded through a payroll tax for eligible leaves under the FMLA.
Keeping Watch
It will be incumbent of all of us in HR to keep track of all the impending legislation impacting the workplace as we approach 2017. We, like SHRM, constantly keep our ears to the ground. If you're having difficulty navigating how these issues impact recognition and engagement opportunities, give us a call. We're always here to help.