What is Mindfulness?
Recently, a teacher friend told me about a practice that is growing in educational circles - teaching mindfulness to children. Mindfulness can be described as the practice of paying attention in the present moment and doing it intentionally and with non-judgment. Mindfulness meditation practices refer to the deliberate acts of regulating attention through the observation of thoughts, emotions and body states. It seems this practice helps students to focus more on their studies, improve mental and emotional behaviors, and in general, perform better physically and academically. This got me thinking; could mindfulness training be of benefit to the workplace?
A New Application of an Old Concept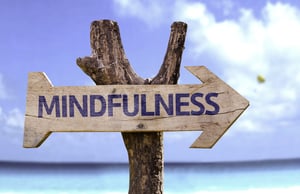 Mindfulness is not a new concept, but its resurgence is due to our modern day explosion of constant connectivity and distractions. We are continuously barraged by emails, texts, advertisements, social media, news feeds, and instant notifications. It can be almost impossible to tune all of this out and concentrate on the job at hand, especially in the workplace. How could we apply mindfulness in a meaningful way to help our employees reduce stress and improve their performance?
Recommended Strategies for Mindfulness Training
It appears that Forbes was asking the same question. Recently, the Forbes Coaches Council released the following recommendations to decrease stress and increase efficiency among your employees by encouraging them to practice mindfulness. The strategies include:
Lead by Example- Adopt mindfulness as your personal practice. Don't ask others to adopt something you haven't yourself embraced.
Give People Time to Dream- Every minute doesn't have to be productive. Encourage your people to imagine new products and services.
Look at Your Response From Another's Point of View - Always think of your actions from another's point of view and take their perspective into consideration.
Ask Challenging Questions - Each week ask your team a question about how to improve the company. Watch the ideas, suggestions and comments lead to productivity, engagement and breakthroughs.
Get Up and Take a Break - Let your team see you take breaks. With a refreshed mind and body come new ideas and renewed commitment.
Teach People How to Practice Mindfulness - Teach your people what mindfulness is and help them experience it for themselves.
Remember to Breathe - Breathe as you sit in your conference room, and think about the lives before you and speak mindfully with human-centered intention.
Notice the Little Things Around You - Even a few minutes throughout your day can make a difference.
Lead with Emotional Connection - Create an emotional alliance with your people to help them overcome their challenges, address their emotional blocks and reconnect the team.
Allow Gap Time Between Meetings - Allow time between meetings to increase focus, productivity and well-being for everyone.
Slow Down and Block 'Unscheduled' Time For Yourself - Purposefully blocking unscheduled time and getting out of your normal routine can also help to increase mindfulness.
Don't Be a Micro Manager - Give your people space and time to be mindful. Stress is a major block to mindfulness, and one of the biggest stressors is micromanagement.
Incorporate Mindfulness into Meetings - Take a few minutes at the beginning of a meeting to meditate, set intentions and take a few breaths.
Start a Conversation about Mindfulness - Help your people that may be struggling with the concept, understand and de-mystify the topic.
A Panacea for Our Time?
Whether or not mindfulness is the cure-all for today's chaotic environment is not the question. The simple truth is that we need to put the human factor at the center of all our endeavors, both personal and work related.
At Incentra, we begin every program with the human factor. Call us if you need us.
Phone: 888-899-7295
Email: solutions@incentracorp.com