Feeling Left Behind?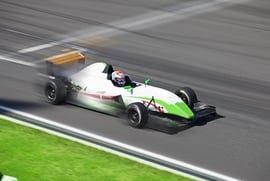 We talk to a lot of HR Managers about where they are going with Recognition and Reward (R&R) platforms. It's safe to say there's a lot of uncertainty and angst out there on this topic. Some tell us they've jumped on the train but it's going too fast; others feel like they're hanging on to the caboose. Still others say they got to the station but the train had already left. What can a HR Leader do to ensure that his or her company's R&R program is going in the right direction at top speed?
Why You Might Be Feeling Overwhelmed
Traditionally, R&R software was used solely to recognize employees for years of service and special achievements. Today, the philosophy and technology underlying R&R software have evolved into an overall talent and human capital management strategy. This expanded approach has been fueled by recent trends in continuous performance management and total awards strategies. So how can you get your arms around an R&R solution that will work for your organization?
What You Need to Know
Recently Gartner came out with a study on the current state of R&R software. Their findings and recommendations could be quite useful to HR managers who are grappling with finding the right solution for their company. According to Gartner, R&R in the workplace and how it fits within a typical business's HR strategy have greatly changed in recent times. Overall, there is greater potential to be exploited and realized from an R&R investment if it is leveraged and integrated into part of a broader talent management strategy.
What Is Recognition and Reward Software?
Gartner reports that R&R software allows organizations to recognize and reward employees over and above the annual performance appraisal and merit/bonus cycle. This includes awards for ad hoc accomplishments (such as going above and beyond in a project or customer interaction) and/or personal milestones (such as years served, new qualifications and promotions/job moves), and/or achieving measurable performance (in sales, safe work, or any situation where performance can be tracked). All R&R point solutions today are SaaS, cloud-based services.
Why Are R&R Systems Important?
Gartner states that implementing an up-to-date and centralized R&R program gives organizations visibility and control into ad hoc recognition spend, which is important because it reduces exposure to potential tax infringements. Benefits of a central R&R program include:
Full traceability and reporting to assist in local tax compliance for both the employee and employer.
Limiting risk of favoritism or discrimination.
Ease of use that the ability to publicly and directly recognize or reinforce desired behaviors "in the moment" and "on the spot," which is more effective in increasing employee motivation on a day-to-day basis.
Allowing all recognition and reward accomplishments to flow to the talent-management process.
How To Know Which R&R System Works for Your Organization
In our next post, we'll discuss the various types of R&R software and how to select the best one for your company. In the meantime, Gartner did include our proprietary system, WorkStride, in their list of recommended providers. Why not check us out?