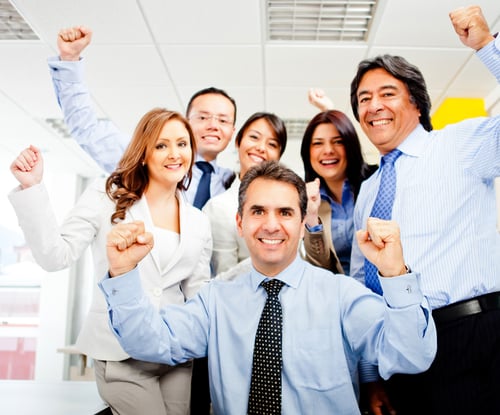 Are service awards still necessary? Yes, but the key is to celebrate performance the modern way.
Length of service awards are still the most popular component of an employee recognition program in the United States. However, many companies don't start recognizing employees until they hit their 5 year anniversary, and that is too long to wait to recognize. Especially since the median employee tenure is only 4.2 years (Bureau of Labor Statistics, January 2018).
According to World at Work, 87% of companies have a service awards program, but only 10-15% of employees achieve a milestone anniversary each year. Service awards that only recognize 5, 10, 15+ year anniversaries exclude many of employees.
What is the value of having a Service Awards program that recognizes all employees?
Research was conducted by The Cicero Group supporting the value and benefits that service award programs provide to both the employees and to the business.
Companies that have effective service award programs have about 20% more employees that feel strongly that the company cares about them and that they fit in and belong within the organization and among their peers.

Employees who feel positively about employee engagement elements stay 4 years longer at companies than employees who are not similarly engaged.

A modern service award program will reach employees across generations helping to create a more engaged workforce.
What are some ways to celebrate employees before their 5 year anniversary?
Welcome to the Company - Recognizing new employees as they join your company will make them feel special and that they made the right career move. The company President or the employee's direct manager can present the employee with a new hire pin or some other tangible gift of recognition.


Completion of Probationary Period - Very few companies even acknowledge the completion of a probationary period. Celebrating the successful completion of this period gives companies another reason to recognize an employee that has successfully completed training and is no longer the "new kid on the block."


Celebrate 1-4 Year Anniversaries - As mentioned earlier, many employees today do not stay at one company for 5 years. So recognizing employees earlier is essential if a company wants their service award program to have a positive effect on retention. Recognizing employees in the earlier years allows companies to recognize more employees per year while increasing employee engagement at the same time.
Now that you know you need a modern service rewards program, how will this enhance ROI and save money?
Recognizing employees early in their career with your company and often will help employees feel more connected to your organization and will help you retain them, allowing the company to benefit from the investment they made in these valuable human resources.
Studies have shown that employees who are recognized for their work perform better and are more likely to stay with your organization – delivering stronger business results including profitability, productivity, and customer satisfaction. This is the ROI you and your executives want to see.
Incentra's service award program can help you recognize ALL employees – not just the small percentage hitting an anniversary milestone – using a unique solution that is personalized for your brand, culture, and budget. With no upfront or monthly investment, our service award program is the only tax-compliant service program that recognizes ALL employees throughout the year.