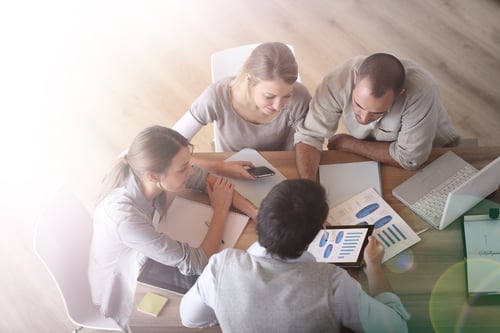 People who enjoy sales as a career like that there is some control of their schedule and their compensation. Typically good salespeople do not like to be micromanaged, and they shouldn't be. However, the pandemic brought on so many challenges for outside salespeople, and companies continue to have restrictions that affect the way salespeople schedule their time.
Sales managers have found that the pandemic brought new challenges for keeping their team productive and motivated. Here are three ways that managers can help keep their team positive and driven to reach their goals.
1. Communication
It's important to maintain open communication with the sales team without being overbearing and micromanaging them. Each person has different preferred methods of communication so a manager should adapt his/her communication style to fit the needs of each team member.
When managing a remote team, it helps to focus on the goals and outcomes and not how they spend every second of their day. Ask the team how they want to celebrate their challenges, progress, and wins.
Remote employees often have an extended workday and end up overworking. A recent study showed that remote workers in the U.S. increased their average workday by three hours - the largest increase worldwide at an almost 40% jump.
Managers should have regular check-ins with their team to make sure the workload is manageable, and if it isn't, devise a plan to make it manageable without making anyone feeling guilty about not working "enough" hours to keep up.
Another important part of communication is giving the sales team a way to connect with their peers on a regular basis. This can be done through team meetings or even with small groups over video conferencing.
2. Access to Resources
Making sure the sales team has access to resources is important to their success. Ask the team what resources they need to do their job better and easier.
It's also important to provide remote sales reps with enough resources to do their job on their own. For example, this can include scripts, checklists, meeting agendas, and product guides.
Some other ideas include access to online or even in-person training or maybe a comfortable chair for their home office or even a wireless headset.
Being physically comfortable and creating a learning environment helps make employees happier at their job and thus more motivated and productive.
3. Set and Track Goals AND Celebrate WINS
It's essential to set and track goals for your sales team so they know where to focus their efforts, and they can experience have success before moving on to another goal. Usually, with a remote sales team, it's more effective to focus on the top 1-2 highest priority goals at one time.
Using some type of tool to track progress towards these goals is also a key element. This allows team members and managers to see the status of projects and goals at any time.
Once goals are met, it's important to celebrate both the small AND big wins. A big win could be completing a sale in a shorter period of time than usual. A small win could be finally talking to a key decision-maker from one of the top prospects. Either way, take a few minutes to celebrate the team's wins!
If you need help motivating your sales team, please reach out to us. We have helped many clients speed up channel adoption, drive participant engagement, and improve sales year after year.