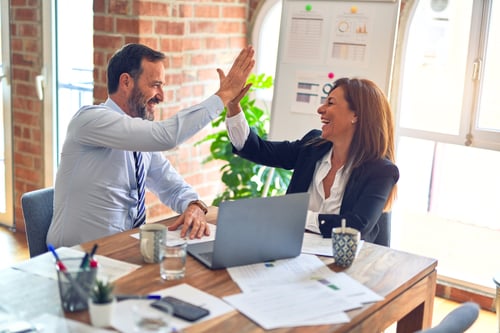 Marketing your channel incentive program is essential to the program's success. It won't matter how great your program is if only a small number of people are participating. Continually recruiting new participants should be one of your top priorities.
Our technology partner WorkStride outlines four tips to help you develop a marketing strategy to drive channel incentive program enrollment.
1. Identify Your Audience & Make Program Participation Attractive
First, you need to identify who is your audience. You likely have different groups of people that you want to reach, and each group may require its own plan and message.
You will need to understand their needs, expectations, and what motivates them. You may want to talk to a few people from each group to get their opinions and suggestions – consider running a poll or survey to gather feedback.
Once you know what your audience wants, the incentive program should stand out and make them think, "Wow, I want to be a part of that!" If the program is attractive enough, they will want to participate and will help spread the word so that others want to participate too.
2. Sell It Well
It may sound a little crazy but you have to SELL your audiences on joining a program to EARN INCENTIVES. Even at no cost to join and only value to gain, program prospects in competitive markets may be experiencing program overload from all the brands they support. People are busy and will choose only the best to participate in.
Using good marketing and communication channels is imperative so your program stands out as one of the best. It's not usually enough to simply announce a new incentive program and share a link to sign up.
There needs to be a well-thought-out strategy developed that includes how the program and all of its great benefits will be described, branded, and illustrated to your audiences.
3. Target Communication
Marketing an incentive program effectively means reaching out to all of the potential participants not just your already active relationships. To do this effectively, you will need to segment the marketing communications.
Active partners should receive messaging centered on what's new — like products and exciting new incentives — in order to compel their enrollment. Inactive unenrolled partners should also get communication focused on program benefits but at a higher level on your brand values and product benefits to the customer.
4. Broaden Reach
A successful incentive program marketing strategy uses informational and motivational emails to drive engagement. Here are suggestions for the types of emails you may want to send during your next campaign.
Introductory messages are sent several days or weeks before your program begins and generate excitement and enthusiasm.


Informational messages break down the key information your participants need to succeed with the program.


Messages of encouragement are used as positive reinforcement to recognize accomplishments, tell them when they can expect their next reward to arrive, and remind them how much you appreciate their efforts.


Campaign updates keep everyone apprised of how much they've already achieved (individually and as teams), how close they are to achieving the next tier, how much longer the campaign will last and what they need to do to achieve further excellence.
These four tips are just the beginning! If you're looking for a comprehensive marketing strategy that can help increase enrollment for your channel incentive program, give us a call at 888.899.7295. We have helped many clients achieve success!