What is the DAISY Award Program?

The DAISY Award program was created in 1999 by the family of J. Patrick Barnes to honor his memory and recognize extraordinary nurses. Patrick's family wanted to find a way to say thank you to the nurses who gave skillful and compassionate care during Patrick's hospital stay. They established a recognition program called The DAISY Award for Extraordinary Nurses (The DAISY Award).
As described on the DAISY Foundation's website, there are three key elements to the recognition program:
"A partnership with healthcare organizations to provide ongoing recognition of the clinical skill and especially the compassion nurses provide to patients and families all year long.
Guided implementation and ongoing support where DAISY provides most of the materials for the program.
Flexibility so that The DAISY Award may be tailored to each hospital's unique culture and values."
Today there are over 5,400 healthcare facilities and nursing schools in all 50 states and 35 other countries/territories that honor nurses with the DAISY Award, and the impact of the award program on nurses and their organizations is significant.
What's the strategic impact of the DAISY Award?
The impact of the program on both nurses and their organizations has been shown to positively affect job satisfaction, teamwork, organizational culture, and a healthy work environment.
The DAISY Award program is evidence-based meaningful employee recognition impacting a healthcare organization in three areas as illustrated below. (Specific references can be found on the DAISY Foundation's website here.)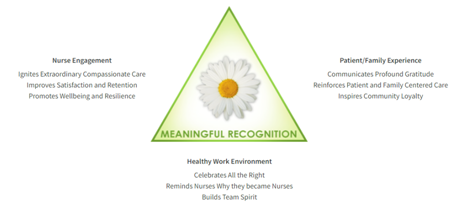 The feedback that's been received about the DAISY Award program showcases how it's an excellent tool for nurse retention, boosting morale, developing role models, and a reminder for nurses as to why they became nurses. Click here to read some testimonials about the program.
At Incentra, we have seen firsthand how the DAISY Award program is positively impacting clients' healthcare recognition programs. Contact us today and learn how we can help you add DAISY awards to your recognition platform.