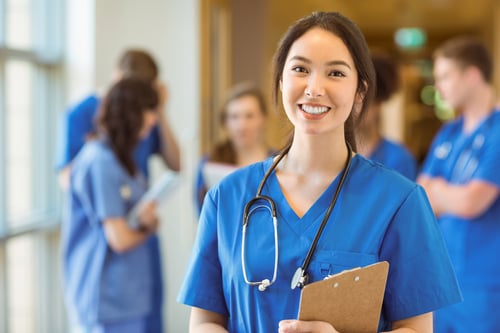 We have all seen the extraordinary courage and dedication of our nation's healthcare workers. They face extremely challenging conditions every day, and somehow keep on going despite overwhelming physical and emotional challenges. They are exhausted and under-resourced and putting their lives on the line as never before. In our May 13 blog post we discussed how company leaders can step up and provide healthcare workers the support they so desperately need.
In this blog post, we will focus on how to take a proactive, strategic approach to employee recognition. Doing this will empower healthcare human resources leaders to positively and measurably improve employee engagement, performance and patient satisfaction. Today, new technologies make creating and implementing employee recognition programs faster, easier and more powerful than ever.
The Impact of Recognition on Employee Engagement in Healthcare
The healthcare industry is unique as far as the physical, emotional, and personal demands required of caregivers and the people who support them. It can be argued that healthcare workers have a greater need for appreciation and recognition than workers in most other industries.
The good news is that numerous studies1 show that transforming an organizational culture into one where employees feel recognized, and have the power to recognize others, significantly impacts employee engagement and improves a range of financial results.
Organizations with employee engagement scores in the top quartile have 50% higher productivity, 13% lower turnover and 44% higher profits compared to organizations with employee engagement scores in the bottom quartile.2 Engaged employees deliver 26% higher productivity and are twice as likely as their peers to be top performers, to exceed expectations in performance reviews, and to better support organizational change initiatives.3
In healthcare specifically, engaged employees are personally and emotionally invested in doing their jobs well. They will make personal connections, show more compassion, check back on their patients often, follow proper procedures, and help out other employees when needed.
Here are some numbers for healthcare leaders to keep in mind and understand that recognition is a critical, proven driver of employee engagement and a key element in the total rewards package, as noted by these organizations:
Gallup Consulting

identified frequent recognition (weekly) as one of the 12 critical drivers of employee engagement.
Towers Watson

identified "deployment of recognition programs" as one of the nine distinguishing elements of an integrated reward and talent management system that helps outstanding companies attract and keep great talent and perform better financially.
Corporate Leadership Council

identified "Recognizes and Rewards Achievement" among the top levers for increasing discretionary effort from workers.
Incentra's

40,000 employee healthcare client identified a 67% increase in engaged employees in the first three years after establishing a groundbreaking employee recognition system. The program was so powerful that both the client and Gallup Consulting have written whitepapers on its success.
Thanks to vast amount of attention given in recent years to recognition concepts, every healthcare executive-level human resources manager should know and understand the relationship between recognition, engagement and performance. Groups like Recognition Professionals International (RPI) provide a wealth of information on developing and benefiting from corporate strategic recognition programs.
Along with improving employee engagement, recognition programs are a powerful force3 for communicating a healthcare organization's vision, mission and values. Recognizing and reinforcing everyday employee behaviors that support those values is a real life way to align the organization directly with the vision and mission.
Through program design and communications, employee recognition programs can also be designed to leverage strategic objectives, providing awards and incentives for those individuals and teams whose actions, performance, or business results support current objectives.
Changing Workplace Demographics
Another critical aspect impacting employee engagement is the increasingly changing demographics of the 21st century workforce. There are now four generations working side-by side in many organizations. The imperative to recognize multi-generational characteristics in the workplace has never been greater.
The newest entries, the Millennials, are particularly responsive to timely recognition and positive feedback, dramatically more so than preceding generations. Millennials will be roughly 50% of the US workforce in 2020 and 75% of the global workforce by 2030.
Human resources managers will have to skillfully develop strategies to nurture and retain valued Millennial employees now and into the future. These recognition strategies include the use of social recognition, gamification, and better and wider reward choices.
Making Recognition a Priority
The big question is despite the fact that most managers are aware of the need for and the benefits of enterprise wide employee recognition and incentives, why are so many organizations not implementing employee recognition programs?
And why are so many healthcare human resources managers not creating true recognition strategies? For example, while a wide majority of organizations polled have service awards programs, which typically touch fewer than 20% of an organization's employees per year, a World at Work survey showed that only 42% of managers polled said that their organizations offered a peer-to-peer recognition program—the foundation level of recognition that can touch every employee, multiple times a year.
Many C-suite managers either don't understand or don't care that recognition is a key piece of the employee engagement puzzle. In fact, our company is often approached by summer interns who have been tasked with updating recognition programs or strategies.
We have been told hundreds of times that "recognition is nice, but it is not a priority at our company right now," or words to that effect. It is not a priority to create a culture where people are valued and appreciated and, as a result, perform at higher levels? It is not a priority to use recognition as a powerful tool for aligning the organization with its vision, mission and values?
Healthcare systems that embrace the true power of recognition do so because a CEO or top-level human resources leader understood its importance, made it a priority, and took a leadership role in creating an enterprise-wide employee recognition process. If your company is going to successfully make this leap, leadership from top management, not interns, will be required.
Coming Soon: Part 2 - Employee Recognition Made Simple - What many healthcare human resources professionals don't realize is that new technologies have made it easier and faster than ever to design and implement an enterprise-wide Employee Recognition program.
The experienced team at Incentra can help you create effective, scalable and affordable rewards programs and platforms that spark employee engagement while building a culture of happiness and performance.
1. "The Value and ROI in Employee Recognition," Incentive Research Foundation/FORUM for People Performance Management and Measurement/Human Capital Institute

2. Gallup Consulting
3. Towers Watson