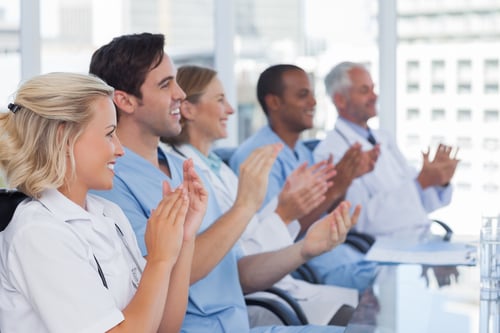 A few of our healthcare clients have asked us for some suggestions on how best to recognize their remote and hybrid workers. So we have compiled a list of some ideas that we think will make the most impact for your workers that have worked in some remote capacity and continue to do so.
We all know that the past year and a half has been a challenge for workers, no matter what industry or where they were working. So let's take some time to recognize all of them for their efforts.
Here is a list of some ideas. We can also help you develop a customized list of ways to recognize that specifically meet the needs of your organization.
Targeted email to managers about the importance of recognizing remote workers

Targeted email of recognition to remote workers

Tangible recognition – congrats card, Grubhub, symbolic award or logoed item sent to the home

Special, fun, Zoom recognition calls

Hand-written thank you notes

Technology perks like an extra monitor, a tablet, better headphones, a laptop upgrade, etc.

Home service perks – cleaning, gardening, or home meal delivery such as Hello Fresh

Workspace upgrades – having the right chair and desk for work is high on the list for remote employees

Health benefits – gym membership, yoga classes, new running shoes, meditation course, etc.

Learning and development – online training courses or courses of one's own choosing

Special treats – vouchers to a restaurant, for a massage or facial, etc.

Surprise delivery to a caregiver's home – cake, pizza, flowers, basket, fruit, etc.

Positive public recognition – highlight caregivers' accomplishments in front of a whole team

Interview team members and feature them on a blog, intranet or newsletter

Host fun events done in a Zoom group – special speaker, cheese tasting, Cleveland Clinic Olympic games
Whether you have an existing employee recognition program or would like to start one, we can help! Call us today for a free consultation at 888.899.7295 or contact us by email at solutions@incentracorp.com.