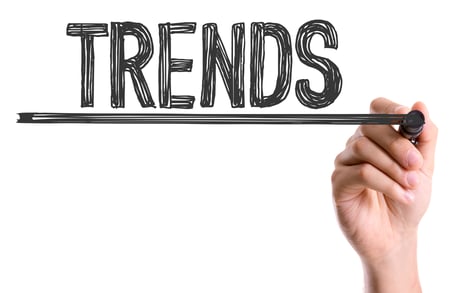 As businesses face unprecedented challenges in 2020, the importance of the employee experience, engagement and recognition has been brought to the forefront like never before. This blog post will highlight some of the key employee engagement and recognition trends that are making an impact in 2020, and likely in future years as well.
#1 - Promoting a Work Life Balance
As we have seen thus far in 2020, this concept has moved to the forefront as many people are working remotely and also trying to juggle kids learning remotely, along with the added stress of a pandemic.
Many companies were forced to allow employees to work from home in March, but many also realized that not all employees need to physically be at a workplace to do their jobs and be productive.
Even before the pandemic hit the U.S., the traditional workplace was changing with millennials making up 75% of the global workforce by 2025. Millennials expect companies to offer flexibility and insist on a healthy work/life balance. A QuickBooks survey showed that 76% of workers think that flexible working hours is the best incentive their employer could offer.
The ability to work flexible hours gives employees greater control over their work, and trusting them can result in greater effort and performance. A FlexJobs study showed that 75% of employees feel more productive when working from home with fewer distractions and less stress from commuting into the office, and in general, they feel happier.
#2 - Prioritizing Mental Health
Everyone can probably agree that 2020 has been a challenging year for most people in ways we may have never imagined. Even prior to the pandemic, poor mental health was a big issue in the workplace, resulting in high costs to employers for missed work days and medical expenses.
According to Aetna Behavioral Health, recently, companies' annual cost for mental health services has been increasing twice as fast as all other medical costs.
The good news is that employers are more aware of the importance of employees' mental well-being. Companies are starting to focus on mental health by creating awareness and taking the steps to promote a healthier work environment like offering paid mental health days.
There will be an expanded focus on mental health, not just physical health, in the workplace in 2020 and beyond.
#3 - Emphasizing Wellness in the Workplace
Typically full time employees spend a large part of their day in their workplace. The work environment and culture can play a big role in a person's well-being. Healthy employees outperform their peers and are more productive. The cost of unhealthy employees takes away from the company's bottom line.
Even before the Covid-19 crisis, wellness programs benefited both employees and employers. Wellness programs are a key component to helping employees maintain their health while also being engaged in their work and productive.
In 2020 and beyond, more and more companies are implementing wellness initiatives for their employees because they see the benefits and ROI.
#4 - Offering Career Growth & Advancement
Today more than ever before, employees want a job that helps them grow – both as an individual and as a professional. According to a Ranstad report, 47% of highly educated employees said a limited career path could get them to leave for a better opportunity.
Career progression is a top priority for millennials. They take a job expecting to rise quickly through the company, according to a PWC publication Millennials at Work.
#5 - A Recognition Culture that Puts People First
Company culture has always played a role in employee engagement as businesses have spent years defining their cultures, but in 2020, there will be much more effort focused on creating a culture that puts people first. Companies that do not create this type of culture risk losing top talent.
So what is a people first culture? It's one where every employee, from the top level and down, feels respected and valued. A people first culture goes hand in hand with one that embraces a culture of recognition.
A culture of recognition also helps companies attract top talent and become a more successful business as it recognizes behaviors such as innovation and collaboration.
To attract and retain the best talent, it is essential that businesses foster a learning environment where employees can grow AND advance pretty quickly. Millennials are not going to wait 5-10 years for a promotion!
This year and beyond, we think that business leaders will enhance their focus on employee experience, engagement and recognition. If you need help coming up with a plan for your organization, Incentra is here to help. Contact us today to discuss your needs.