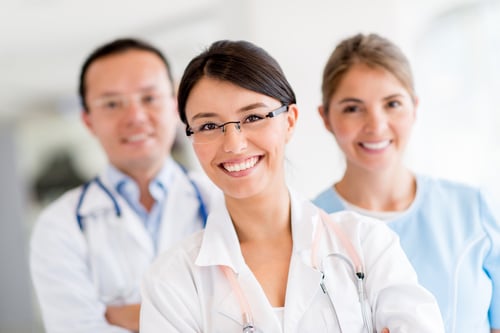 This blog post is part two in a series about employee recognition in healthcare. If you missed the first post, click here to read Employee Recognition in Healthcare: Now is the Time for Visionary Leaders.
New technologies have made it easier and faster than ever to design and implement an enterprise-wide employee recognition process. Today's leading recognition platforms include all standard program functionality and just simply need to be customized and branded for each client.
Healthcare human resources leaders can get started by appreciating that employee recognition can and should be relatively easy to launch. Recognition Professionals International suggests that a best-practices model consists of three levels of recognition that make it possible to reach all members of an organization, and today's recognition platforms allow us to add several more.
Patient recognition allows patients and family members to call attention to outstanding behaviors by caregivers and staff that positively influenced their experience. As an example, WorkStride technology can link patient/family recognition seamlessly with the recognition system.
HCAHPS recognition focuses on singling out those behaviors that improve patient experience and HCAHPS scores.
Day-to-day recognition encompasses a wide range of acknowledgement that is frequent, ongoing and informal. It may consist of intangible recognition, awards or celebrations (or eligibility for awards or celebrations) to reinforce behaviors that support organizational goals and values.
It may include peer-to-peer recognition, thank-you notes or cards that employees give to one another, or verbal praise. All employees can participate so this supports the commitment to recognize up, down and across the organization.
Informal recognition singles out individuals or teams for goals achieved, projects completed, or other above-and-beyond contributions or results. It might include celebrations featuring low cost mementos or refreshments as a way to note achievements or positive behaviors. It could include manager recognition, nomination recognition or peer recognition with manager approval.
Formal recognition consists of a structured program with defined processes and criteria linked to organizational values and goals, a nomination and selection process, and an awards ceremony where employees receive public recognition and are presented with awards in a formal setting. Formal recognition usually occurs annually and involves only a small percentage of employees.
Social recognition allows recognized achievements to be seen across an organization, with "likes," "comments," and "follows," as is typical in social media. Some sites allow for personal video messages from smart phones to be included in the recognition process. These extra touches encourage collaboration, teamwork and add free recognition touches.
Gamification and badging are a fun and engaging way to use competition and achievement milestones to drive performance.
Today's Technology Makes Employee Recognition Easy
Managing and monitoring an employee recognition program is now easy because a well-designed system essentially runs itself. Program stakeholders can instantly monitor program activity and results by clicking into an administrative portal that features a dashboard with real-time reporting and graphs that address all recognition activities. This data not only helps manage the program, but it also allows human resources leadership to hold all managers accountable for growing recognition activities within their teams.
Leading recognition technologies also make the recognition process itself easy, facilitating all forms of employee, manager, customer and patient recognition. Peer-to peer recognition that used to take days or weeks to process through manager approval steps now only takes seconds. Technology also can make nominating employees for recognition simple by streamlining the nomination process and forwarding electronic applications directly to the team members responsible for approving nominations.
Because site contents are unique by participant group, employee data is managed in a way that allows members of every participant group to access the reports that are relative to them.
While technology varies greatly from vendor to vendor, the best employee recognition platforms offer the following:
Basic Tactical Recognition Programs – These include standard but customizable modules to facilitate peer-to-peer recognition, spot recognition, manager recognition, nomination recognition, service awards, and performance incentives.
Mobile Responsive Design – Participation can now be accessed through computers, smart phones, and tablets. Access is typically through a mobile responsive site which is much more flexible than a native app.
Branding and Communications – Each site can be customized with your organization's branding and includes areas for posting recognition awards and achievements. Typical functionality includes the ability to quickly blast messages (email, text or in-site) to all or targeted program participants.
Social Recognition and Gamification – As noted above, social recognition and gamification drive performance and appreciation in ways that align with today's use of social media outside the workplace.
Recognition Training for Managers – Educating employees and managers about the importance of recognition and recognition fundamentals is crucial to the success of a workforce recognition system. Today's sites can include educational components that range from simple PowerPoint presentations to true e-learning modules that include videos of an organization's "recognition champions" sharing their passion and showing appreciation.
Improved Rewards – Behavioral science shows that awards matter greatly, because awards provide the excitement and emotional leverage needed to engage participants. Retail merchandise, experiences, and travel awards motivate behavior change with an investment of only one-third the amount of cash—or cash equivalent such as debit cards— needed to make the same impact.
Analytics and Reporting (Sites, Dashboards, and Tools) – These back-end tools provide easy access to a wide variety of metrics, reports, and graphs that tell the story of how a program is progressing. Every recognition event is captured in a master database that program administrators can easily access via Excel or charts. In addition, each manager can access reports that include the recognition activities of everyone in his or her down channel.
Performance Incentives and ROI
A robust employee recognition technology platform in which awards are accumulated, typically by collecting points or award dollars, can bring to light previously untapped opportunities for using incentives to promote behaviors that result in measurable performance increases.
Opportunities like this exist any place in an organization where individuals and/or teams are accountable for performance metrics that, if improved, will impact the bottom line. In fact, it is possible to build an employee recognition process where savings from incentive programs can pay for all other recognition programs.
Incentives can drive results in programs such as safe work, attendance, patient satisfaction, quality improvement, clinical outcomes, idea generation, referrals, employee wellness, and many more.
Coming Soon: Part 3 - Employee Recognition Assessment & Strategy
The experienced team at Incentra can help you create effective, scalable and affordable rewards programs and platforms that spark employee engagement while building a culture of happiness and performance.