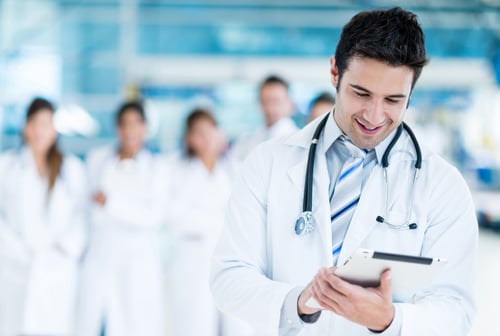 This post is part five and the final post in a series discussing The Healthcare Employee Recognition Playbook. In case you missed any of the first four blog posts, you can read them by clicking on the links below.
The pursuit of driving success never ends. That's why optimization and improvements are an imperative piece of the equation for all successful healthcare recognition programs. The following are the top five factors to help ensure the success of your recognition programs.
Diversifying the Reward Mix
People love choices. That applies to consumers shopping for paint at their local Home Depot, drivers checking out new cars at a dealership, and employees participating in their hospital's recognition program.
Choice goes beyond the diversity offered within a single reward category. For instance, our client programs offer 300+ retail gift card options. Redeemers can choose from the most general (Amazon) to the most specific (Roblox). But mixing up the reward assortment beyond gift cards helps to generate more excitement in the program.
While recognition programs aren't all about rewards, the redemption options are influential in motivating engagement and program participation. For example, adding merchandise to a gift card-only selection keeps things interesting. The browsing experience of merchandise shopping with rewards adds a new flavor to the program that's less transactional than gift cards. Conversely, introducing gift cards to a merchandise-only program provides more flexibility with endless possibilities of what reward dollars can lead to.
As another example, a five-year Service Award might include a certificate, a nice message, and an engraved plaque. For a 10- or 20-year work anniversary, along with the common symbolic award, there could be some reward value to use for a gift.
Adding New and Interesting Award Types
One way to increase the value of a recognition program is by recognizing more company behaviors with a greater number of award types.
Award types are branded recognitions in the program used for acknowledging a specific action. For some health systems, the award types are reflective of their core values, with one award representing each value. Going beyond involves introducing even more values to the program in recognition of activities like wellness, safety, and training behaviors.
Hoping that employees will invest more in personal wellness challenges like annual checkups or weekly step counts? You could offer an award for that. Wishing employees would practice more safe daily activities within their facilities, or participate in a non-mandatory module? There could be awards for those too.
The more award types introduced into the program design, the more the program will be remembered and utilized. And, even better, the more those values and behaviors behind each award will be regularly displayed within the culture.
Integrating Platforms
In a world of increasing utilization of technology in healthcare, there are more opportunities to connect lines between business tools to benefit both participants of recognition programs and their administrators — and they go beyond expected HRIS integration.
Many health systems that run a recognition program, for instance, also run a company-wide intranet. Given the centralized nature of both platforms, some programs provide a seamless experience between the two, by linking the recognition program in the navigation of the intranet (and vice versa) and leveraging Single-Sign-On (SSO) technology to enable one single login across both networks.
Some of our client programs integrate the recognition program with a hospital's rounding software. This enables supervisors to log observations of positive, recognition-worthy activities of staff, and have those logs lead to recognition and reward in the company's recognition program.
Ensuring Leaders Are Spending Their Budgets
Once you've gone through the undertaking of creating and launching a program, and have gotten valuable reward budgets in the hands of managers and supervisors to give out to their employees, you may find that some managers aren't issuing out rewards.
This could be because those budget-holders simply don't observe enough positive behavior, or more likely, they've been so immersed in daily work that their reward budgets have taken a backseat. Formal recognition programs give you visibility into budget-holders, so you can monitor how much they've spent relative to their allocated rewards.
Finding that some leaders or divisions are underutilizing their reward budgets is valuable information. Budget-holders can be reminded and contacted about their un-spent budgets. Further, the intel can provide insights about that leader or the division. What's driving the lack of activity? Once identified, how can it be addressed?
Marketing the Program
If you've got a great program, market it! So many good programs that are underutilized lead to the belief that improvement in the program design is needed, when actually, more communication about the program may be what's needed.
Make a splash beyond just the initial launch. Weave the program into regular communications and newsletters. Encourage leaders to leverage the program to drive engagement with their staff. The methods of internal communication of a great program are endless, and can spark a large increase in program activity.
Incentra has helped many leading healthcare organizations create and implement employee recognition programs. Click here to read one of our case studies to see how we helped Orlando Health revitalize its recognition program. Contact us to see how we can help you in this highly competitive market.
(This blog post is an excerpt from our technology partner WorkStride's publication The Healthcare Employee Recognition Playbook.)