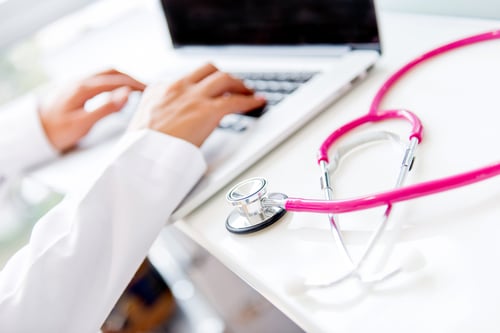 This blog post is part three in a 3 part series about employee recognition in healthcare. If you missed the first post, click here to read Employee Recognition in Healthcare: Now is the Time for Visionary Leaders, or click here to read the second post Employee Recognition in Healthcare Made Simple.
Employee Recognition Self- Assessment
A starting point for evaluating the gaps in your current recognition process is to compare your programs to a best-practices model using a 360° approach to employee recognition. As the name implies, 360° recognition is full circle.
It includes surrounding employees with recognition tools and opportunities, leveraging managers' recognition efforts, empowering customers to participate in the recognition process, enabling administrators to easily manage programs and budgets, and cutting costs by leveraging new technologies and advanced awards malls.
360° employee recognition is the strategic integration and promotion of recognition and incentive programs to maximize employee engagement and performance, minimize administration costs, and deliver business results.
A recognition process that is fully 360° has all of the above elements, which have been shown to be effective in deploying, utilizing and managing an employee recognition process. Few companies have achieved the 360° mark.
The first step toward improving your company's recognition process is to determine how many degrees it currently contains. Then consider how to increase that number through new and/or improved programs, technologies and communications.
Recognition Strategy
Once you have identified the gaps in your recognition offerings, you can begin designing an enterprise wide employee recognition strategy that will close those gaps through programs, communications, technology and e-learning.
Recognition Professionals International suggests developing a recognition strategy that includes these components:
Linkage to business strategy
Three-Dimensional RecognitionTM: (day-today, informal, formal)
Procedures
Objectives
Communications
Events
Continuous improvement
Start with Existing Program Dollars
Most healthcare organizations spend more money on recognition than they realize. Departments and individuals locally source awards, track down tickets to sports events, and purchase pockets full of gift cards. The problem is that with no overall recognition strategy in place these initiatives typically amount to a hodgepodge of unrelated efforts with scattered accountability, little or no budget tracking, and no alignment with corporate goals or culture.
One of our healthcare clients discovered that its managers were spending more than $1 million per year on gift cards but had no clear objectives, no control of distribution, and no tracking for payroll and compliance purposes. By re-purposing those funds, the health system formed the core budget for an employee recognition program that is strategically designed to reach all employees; communicate and drive mission, values, and strategic objectives; and provide tracking of each recognition instance for program analysis, management accountability, payroll reporting, and engagement tracking.
Because today's recognition platforms and awards technologies can deliver savings of up to 40% over traditional service awards collections, transitioning to an updated awards mall can provide additional dollars that can be used to create programs and update to new recognition technology.
The Time Is Now
Creating and integrating recognition programs across an entire system's workforce have been talked about for nearly 20 years in human resource circles. But while the concept is powerful, until now the hard work of actually implementing such programs was daunting.
Today, robust technology solutions make it remarkably easy to build an employee recognition process that can positively engage all employees.
Employee recognition is here; it's easy to launch; and it provides visionary healthcare leaders with:
A fast, easy method of integrating recognition and incentive initiatives to improve employee engagement.
A robust web platform that gives all employees the ability to recognize others, leading to trackable growth in recognition activities and impact.
Measurable ROI through programs that improve employee engagement, productivity, patient experience, wellness and retention.
A competitive edge in hiring and retaining outstanding talent.
A more intelligent investment of recognition and incentive dollars.
Your employees are eager to be appreciated and become engaged. Now is the time to dedicate your company to employee recognition!
Contact the experienced team at Incentra to help you create effective, scalable and affordable rewards programs and platforms that spark employee engagement while building a culture of happiness and performance.